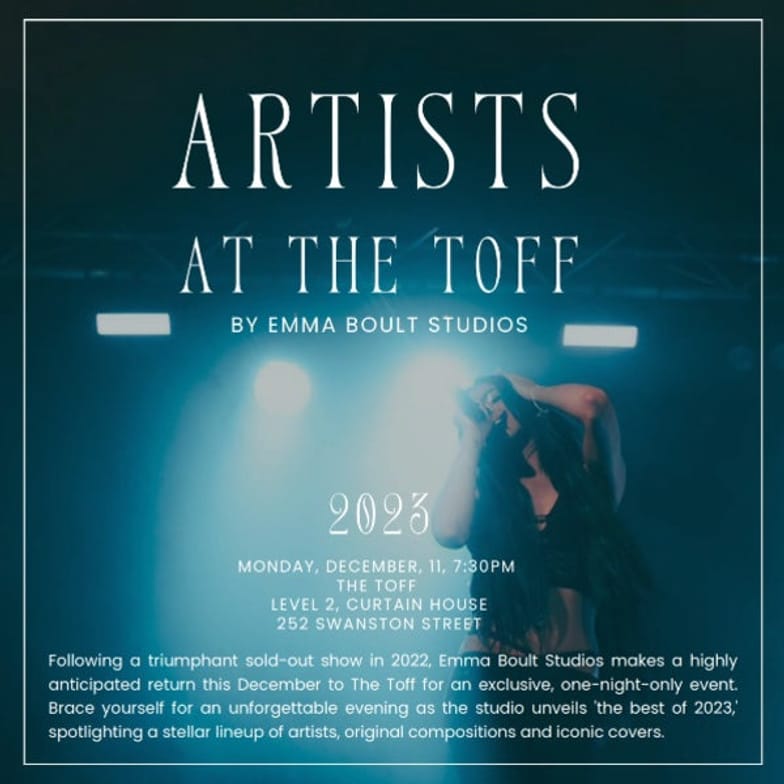 Artists at The Toff by Emma Boult Studios
Mon, 11 December 2023
Doors at 7:30PM
About this event
Artists at The Toff by Emma Boult Studios.
Following a triumphant sold-out show in 2022, Emma Boult Studios makes a highly anticipated return this December to The Toff for an exclusive, one-night-only event.
Brace yourself for an unforgettable evening as the studio unveils 'the best of 2023,' spotlighting a stellar line-up of artists, original compositions and iconic covers.
Emma Boult Studios artists:
Alicia Salisbury
Andy B
AVA
Aysha Ordenes
Charlie Finnin
Chrisoula Alisandratos
Gabriel Marsilli
Grace Lipman
Katherine Noutso
Meisie
Sapphire Senaratne
SHAN
Sinead Horne
Stephanie Barrow
teisha
Vicky Sae
Xavier Gowie